Danielle bradley (Roback), RYT®
"never stop believing in yourself."
Danielle Bradley (née Roback) is an extensively trained, certified and experienced group and personal fitness instructor, coach, and choreographer. A lifelong fitness enthusiast, dancer and athlete since childhood, and a national cheerleading champion at the age of 9, Danielle was born with her competitive drive for physical success and discipline.
In 2012, after years of teaching throughout Boston and its Greater North Shore, Danielle opened Studio Poise in Lynnfield, MA right next to her hometown. Her goal in opening the studio was simple: create a fitness haven for women to reach their goals while sweating, sparkling, smiling and creating new, healthy habits. She never envisioned how life changing the Studio Poise journey would be for so many women, herself included!
Danielle creates a fun and effective studio environment that is guaranteed to make you smile! She strives to keep her classes, and all of those taught at Studio Poise, above average and different than anything you can get at any other studio or gym - maintaining her reputation for packed classes with weeks in advance wait lists! You will never get the same class twice, as Danielle implements many of today's fitness trends and concepts while creating routines, classes, programs and events of her own, in addition to holding the following licenses and certifications:
Barre Certified by exhale®

Mat Pilates

200-hour Registered Yoga Teacher (RYT®)

20-hour Prenatal Yoga and Fitness Certified

ISSA Personal Trainer and Fitness Nutrition Certified

Kickboxing
Danielle's training and experience cannot be contained to one bulleted list. She prides herself on her endless thirst to learn and gain experience, concepts, modifications, and sequences to give her clients nothing but the best that the health and fitness world has to offer! Over the years, she has spent hundreds of hours in training learning the arts of teaching and practicing barre, pilates, yoga, dance, and other specializations. Danielle has traveled and learned from the industry's leading influencers that include internationally renown creators, trainers, and choreographers such as Fred DeVito and Elisabeth Halfpapp, Lawrence Biscontini, Baron Baptiste, Kathryn Budig, Beto Perez and personal choreographer Liana Veda; to name a few.
Danielle's reputation as an amazing, motivating instructor (or an 'instructress' as she so refers to), has earned her recognition by brands such as New York-based In-Studio Footwear mogul, Blake Brody; international yoga-inspired clothing brand, lululemon athletica; and the emerging jerky brand, Krave! Currently, Danielle serves as a brand ambassador for all three companies; sharing that honor with world renowned athletes, celebrities, and fitness icons such as Vernon Davis and Jillian Michaels.
Her first baby is undoubtedly Studio Poise, and she treats it as such! You can catch Danielle in the studio nearly every day either teaching or handling the day to day - but her love and passion for bringing the joys of movement to others doesn't end there. Whether it be privately training clients, or teaching male-exclusive power yoga classes, her devotion to her craft is unparalleled. Since April 2015 Danielle was contracted through the Commonwealth of Massachusetts as the Creator and Instructor of "Moving and Grooving", a physical movement program for the State's mental health community for whom she actively runs classes twice/week. She is also the Pilates and Conditioning teacher for the competitive dancers of the Carney Academy of Irish Dance.
A true practitioner of what she preaches - Danielle tries to live a life full of balance in the midst of her crazy, busy life. She resides on the North Shore with her wonderfully, supportive husband Jake and their sons JJ & Jackson where her real and favorite job is as a devoted wife and mother.
Ali White has been a Certified Group Fitness Instructor and Registered Yoga Teacher (RYT) for the last five years. She holds certifications with AFAA and the Yoga Alliance and is also certified as a Prenatal Yoga Teacher and Holistic Nutrition Coach. After teaching yoga at several high-end studios in and around Boston Ali relocated her practice to the North Shore so she could focus her efforts on raising a family. She holds a B.S. in Psychology and is an AADP Board Certified Holistic Health Coach. She is a lover of organic, natural foods, hip hop music and a big believer in the power of having a healthy mind, body and soul.

Teaching Hip Hop Flow at Studio Poise allows Ali to set her love for yoga to a fierce soundtrack on a weekly basis. A yoga class with Ali is so much more than just an exercise regimen for the body; it's a soulful experience designed to push you outside of your comfort zone and challenge the mental walls we all construct throughout our busy lives. Ali is known for saying "Can we leave our day at the door and focus our attention on the matte? Can we go a little deeper? Release anything we've been holding onto?". Off the matte you can find Ali spending time with her husband Joe and their daughter Vivienne while anxiously awaiting the arrival of their second little girl this fall.
Brittany's enthusiasm for teaching fitness sparks from her personal passion for always leading an active lifestyle. Brittany's extensive educational background in fitness and movement gives her strong knowledge to help her clients succeed. She trained in dance for over 18 years then received a BA in Theater and Dance, with a Dance Concentration, and a BS in Management, from Keene State College. She has attended several programs to further her dance education; learning from world renowned artists including the American College Dance Festival, American Dance Festival, and Dance Education Training Course through the Dance Teachers Club of Boston. She continually works to advance her fitness education and has received thorough training and licensing in Poise Method, Barreworke, Poised and HOT Bodies, Strike a Poise, HiiT and SURFSET® and is currently working towards her AFAA Group Exercise Certification.
In addition to her life rooted in fitness, Brittany also works in Marketing for the tech company Foliage and as a Dance Motivator for Party Excitement Entertainment, a DJ Company based out of Greater Boston. As a world record breaker she once joined Pilobolus and EMC² being one of 26 people to fit inside a Mini-Cooper! Brittany is excited to sweat, sparkle and smile with you at the barre and on your matte. When not at the studio Brittany can be found traveling (Italy is her favorite place to visit!) or with her boyfriend Mike enjoying their new home.
Chrissy has always been a fan of exercise and staying active. She ran track in high school and college then after graduation spent many years spinning and conditioning. However, it was not until Chrissy started attending classes at Studio Poise that her love of fitness turned into a passion and a focal point in her busy life. The community of women coupled with the Pilates based workouts gave her a new appreciation for what her body was capable of. Chrissy started working at Studio Poise in 2014 as the "lounge lady" and transitioned into an instructress a few months later. A life-long teacher Chrissy draws from her years in academia to bring the best analogies and motivation to each class possible. Caffeine-addicted, Chrissy's natural state is always a bundle of energy which translates into EVERYTHING she does. She has been trained to teach Poise, Poise Fusion, Barreworke, Poised and HOT Bodies, Arms & Ab(noxious), Poised & Preggo and Poiseboarde. In addition, she holds licensing in Piloxing® and Piloxing® Barre. Outside of the studio Chrissy is an English teacher, wife to Tom and mother to baby TJ. She made fitness a priority during her pregnancy and is always happy to offer modifications or recommendations to any expecting moms!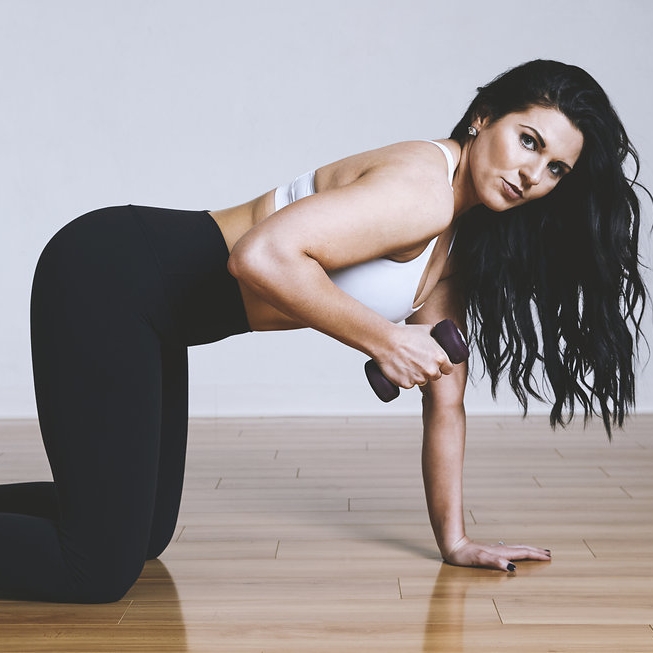 Since beginning her own journey as a Poised and Ready Bride, Crystal Gubelman has never stopped "sweating for the wedding". Now three years later, she continues to challenge herself and the ladies of Studio Poise in SPIIT, Poise Fusion, and of course Poise. Her certifications include these classes as well as Strike a Poise, but she decided to leave the dancing to the pros - you know who you are! That is not to say Crystal doesn't love to dance - in fact, she is no stranger to musical theater and graduated Merrimack College as the President of their Theater Guild and is also a classically trained singer - who knew? Being an Instructress at Studio Poise gives Crystal those same excited, butterfly feelings that she felt being on stage for so many years.
Crystal also works full time in the glamorous industry of insurance and has also been a freelance Make-up Artist for the last four years servicing weddings all over the greater Boston Area. She is a busy bee, especially on the weekends, but always makes time to be at the Studio during the week because it is where her heart is happy! We all know the saying "If you do what you love, you'll never work another day in your life". Crystal firmly believes the same can be said for your workout. To her, Studio Poise never feels like a chore or a punishment, but rather a reward and a celebration of how far her fitness level has come in just a few years. The amazing energy, infectious happiness, and true camaraderie among women is what makes Studio Poise so special in Crystal's eye and for this she is forever grateful to be part of such a wonderful place - a little safe haven for women everywhere. When not at the studio Crystal enjoys traveling and spending time with her husband, Tony.
A native of Wakefield, Courtney started dancing at age 3 and spent her adolescence engrossed in tap, jazz, ballet and hip hop. Dance is her trule passion! She has a Bachelor's of Arts in Theater & Dance from Franklin Pierce University where she focused on contemporary and modern dance. Courtney heard about the Studio Poise grand opening and 2 weeks later she came to infamous Tuesday night Zumba® class - from there it was love. She had never been a typical gym goer before so this was her ideal fitness haven. She's licensed in Strike a Poise, Nothin' But Leg, Poise,, Arms & Ab(noxious), Barreworke & Zumba, SURFSET® and Piloxing® Barre. Courtney's known for her infectious enthusiasm, fierce combinations and signature line "Move It!". One hour spent with her on the dance floor or boxing at the barre is usually JUST the cure for any bad day. Her students know all too well things are "better when we're dancing" like Meghan Trainor says!

Outside of the studio you can find her working as a freelance Make-up Artist, teaching musical theater to all ages in Melrose or spending time with her fiancé Chris decorating their new home. She has been turning the heat up in all her classes to make sure she is a Poised and Ready bride for her December nuptials!
Diana has been teaching fitness classes since 2010 and joined Studio Poise in the spring of 2013. She is known for her charismatic personality and captivating story-telling abilities. Often times in a single Zumba class she can transport you from the beaches of Aruba to the streets of Brooklyn for a rap battle to a Mardi Gras parade; all while pushing you to burn as many calories as possible! She began teaching interval training style classes and soon moved on to other formats. Currently she is certified as an AFAA Group Fitness Instructor with specialty licenses in Zumba® , Piloxing®, Piloxing® Knockout, Insanity, Level 1 Balanced Athlete, Poise Method, and POUND®. In 2015- 2016 Diana completed a 200hr Yoga Certification under the Yoga Alliance at Jacqui Bonwell's Sacred Seeds Yoga School. After completing the training she and Danielle collaborated to design Box & Flow ~ the perfect combination of fierce kickboxing combinations followed by a soothing yoga sequence. She also hosts monthly Poised & Relaxed seminars where she guides students through a gentle yoga class complete with ball rolling therapy to soften those sore muscles!
Always looking for ways to improve her skill set Diana regularly attends different seminars and workshops related to fitness, wellness, and recreation. Outside of the studio Diana works full time at UMass Lowell, (where she received her Bachelor's and Master's degrees in 2012 and 2014 respectively), in their Campus Recreation department as the Assistant Director of Fitness & Wellness. Diana always adds a bit of perspective on life to any class she teaches; offering metaphors such as this - "when you were younger and someone marked your height on a wall from year to year you looked at how much you have grown. You probably rarely looked at how much more or less you grew than someone else. As a child you were always excited to see you grew a little from the year before. That is how we need to look at fitness. Compare your progress to your previous self, not the person next to you or people in the media". She lives her mantra "Fall in love with fitness" on a daily basis! Outside of the fitness world Diana is excited to be planning a spring 2018 wedding with her fiancé Michael.
Hailing from Wakefield Erica is an avid runner & fitness enthusiast. She is licensed in Barreworke, Strike a Poise, Poise Method, Piloxing® Barre, TRX® Suspension Training and HiiT . She received her national AFAA Group Fitness Certification in October 2016. Erica most recently completed the Boston Marathon in 2016 with a time of 3:56:47. Erica was asked to represent Lululemon Athletica Boston as a Marathon Maven, highlighting her training & marathon journey. This marathon was the second marathon Erica has completed, as she ran Boston in 2009.

Every time Erica walks through the doors of Studio Poise, no matter what is going on that day, she feels lighter and happier. It is this energy she harnesses to push clients through each and every class she teaches. Known as the TRX Queen and Guardian Angel of the studio, Erica loves teaching fitness and loves running because it truly makes her a happier person and that exuberance shows in everything she does. She feels blessed to pass along this passion to #poisenation!. When she's not at the studio or running around town (literally!) you can find Erica with her husband Bret and their children Ella and Nate on an adventure by the beach or on the hitting up the ski slopes!
Kelsey hails from the coastal town of Gloucester for which she can attribute her love of the ocean. She started gymnastics at the age of 3 – always looking for new ways to challenge and change her body. She graduated from Curry College with a Bachelor's degree in Health and Wellness. It was during college that Kelsey learned the value of healthy eating regimen and tried her very first barre class. She was hooked instantly! When she joined the Studio Poise family in the summer of 2014 she taught Poise and Barreworke adding in her signature love for planks (and her honing her notoriously bad counting skills; 8 more reps is NEVER 8 more reps when Kelsey is counting!).
The studio soon became her second home and she added Arms & Ab(noxious), SURFSET®, Piloxing® Barre, Poiseboarde and her new favorite POUND® to her teaching repertoire. Kelsey also expanded her love and knowledge for barre, and received additional training through Boston Bodies in 2015. In November 2014 Kelsey started working for lululemon athletica in Lynnfield. lululemon employees are encouraged to expand their fitness horizons and Kelsey has since dabbled in several different flavors of yoga as well as other fun classes. She is a teacher, a life-long student, a planking drill sergeant and most importantly a motivator. Outside of Studio Poise Kelsey can be found planning her next adventure or daydreaming about bringing Studio Poise to Aruba, her happiest place.
Born and raised on the island of Nantucket Lindsey grew up with a wanderlust for the ocean and the conviction that she and her sister may be part mermaid. She arrived at Studio Poise in February of 2012 via her mother-in-law Diane who was a long-time student of Danielle's. After just a few classes Lindsey was hooked and quickly her passion for classes turned into a profession. She is licensed to teach Poise Method, Poise Fusion, SPiit, Poised & HOT Bodies, Piloxing® Barre in addition to holding a certification for Perinatal Fitness- AFAA.

Lindsey is the epitome of a Poised and Preggo mom having had both her children - Cameron and Alycia since joining the studio. She knows all too well how important carving out "me" time is for moms everywhere and is always willing to offer modifications or discuss pregnancy with any of our expecting moms! She strives everyday to make activity a fun part of her life as well as her children's knowing the value a good exercise regimen has on your overall well-being. Lindsey's favorite part of Studio Poise is the true community feel - it also doesn't hurt that everyone both client and Instructresses alike are the most supportive encouraging and positive people around! If you are there just for a class, or you are on a fitness mission or just flat out struggling and need support Studio Poise has the fix. When not teaching or playing with Cam and Alycia she can be found enjoying the ocean with her husband Scott or walking their pups.
Stephanie has always preferred energetic, fun and challenging group fitness classes over a gym workout. After she graduated from Endicott College with a degree in Communications she sought out a career path that would fun as well as rewarding. After taking a variety of classes in many studios, she knew teaching was absolutely the right path for her. Steph found Studio Poise in 2013 and became trained and licensed in Danielle's very own Poise method, POUND®, Piloxing® Barre, BUTI® and SURFSET®.
She is happiest when tearing up the matte with her neon green ripsticks or encouraging her students to lean in just a little more during a Poise, Stretch and Tone session. Steph brings a vibrant energy to each class and always looks for opportunities to further challenge students in their quest for a great workout. In addition to her love of teaching Steph is a manager at lululemon athletica at MarketStreet Lynnfied and loves bringing all things fitness to the North Shore. When she's not sweating and sparkling you can find Steph taking her pup for a walk or planning her next Disney vacation with her very own Mr. Smith.